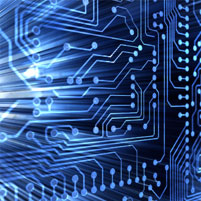 Management Consulting
Liquid Thought, LLC's team delivers broad strategic, organizational, operational and technological capabilities to your organization. Liquid Thought's team has extensive and diverse experience in evaluating, providing, and executing on strategies and implementing business solutions proven to achieve organizational objectives. Liquid Thought is committed to an ongoing process of assessing and delivering on your company's business needs.
Application Development and Support
Liquid Thought leverages and develops technology solutions that support multiple platforms and industries. The Team has extensive experience with a breadth of application software, tools and platforms, including but not limited to Mobile Applications (iOS), Java/Open Source technologies (Java/J2EE, EJB, JavaScript, XML), Microsoft technologies (.NET, C#, VB, ASP.NET, VBScript), AJAX, Web Applications, Database technologies (SQL Server, Oracle, and other relational databases), Data Warehousing and Operating Systems (Windows, Unix and Linux) and Oracle eBusiness Suite.
Application Development Teaching
Teaching how to code has become a major focus in the recent years, particularly to children. Liquid Thought has bright and wonderful individuals with a passion to teach topics in all the fields we're active, with a particular focus on iOS mobile app development written in Swift.
Business Analysis
particular
At the core of each successful initiative is Liquid Thought's focus on identifying requirements in the context of helping our clients' organizations achieve strategic goals. Our team advises on key performance areas (regardless of platform): organizational functions' and activities' impact on overall costs; efficiency of resources being utilized; and support provided to customers. Liquid Thought concentrates on and rethinks end-to-end activities that ultimately create value for customers.
Project Management
Liquid Thought believes that planning is key to delivering a quality product on time and within budget. To address shifting business needs and demanding stakeholders, our team applies a standard project management approach to monitor and quickly determine status of projects and measure project performance. Liquid Thought's team builds solid and productive relationships with its clients by consistently managing to their expectations.
Compliance Framework
Liquid Thought recognizes that information has become a regulated asset and accordingly compliance is emerging as a prevalent issue for businesses. Our team thoroughly implements policies, procedures and governance within an IT organization, while also integrating compliance with other departments to improve business processes and performance. Liquid Thought factors laws and regulations into projects so that related scope and costs are considered from the start.
Quality Assurance
Liquid Thought's team focuses on quality every step of the project lifecycle. With high-caliber people leading testing and quality assurance, Liquid Thought successfully delivers consistently with minimal risk to the business and its customers.
Administrative
Liquid Thought understands that business strategies are dynamic and that clients' requirements change over time. By providing operational support and estimating budgets by deliverables, Liquid Thought ensures their clients realize the many organizational areas where technological innovation improves productivity and generates return on investment.
For more information, please call 800.823.3578 or email info@liquid-thought.com.